15/12/2016
The Vikings are sad to announce that the eliteteam Head Coach Jesse Alderfer is stepping down from the position. The All-Star coach (2015-2016) has been Head Coach since taking over from Eric Raisbeck in 2014. Last year he took the elite team to its first National Champions title since 2012.
Coach Alderfer will leave a lasting mark on the organization with his coaching style and personality. Alderfer has built a strong team with his focus on fundamentals, a strong defense and that of always being a teamplayer. Players, staff and the whole Oslo Vikings community will miss Alderfer's hard work and dedication.
"We are sad t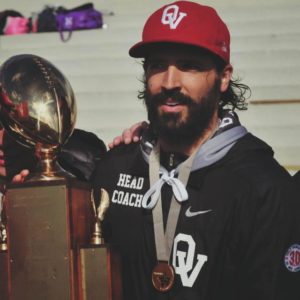 o see Jesse leave the program. He is a top notch person who has done a great job for us over the past two years. But we respect his choice and wish him all the best with his future endeavor's." says Christian Paulsboe, Club Vice President.
Derek Mann will take over the reigns as new Head Coach of the elite team in 2017. Mann came to Oslo Vikings first time in 2012 as an import Quarterback. He then played a season in Germany before returning to Oslo for 2 more season. Prior to last season the Canadian gunslinger retired and became Head Coach of the elite 2. Team. Mann was also offensive coordinator for the elite team last year and has 2 championships as a U15 Head Coach.
We are very happy to have Derek move up the rank to HC of the elite team – and think he will be a great successor to Jesse Alderfer.
"I would like to thank the Oslo Vikings for the opportunity of being asked to be their new head coach for their senior elite program. I am honored and excited to take on the new role with the club. I have big shoes to fill, but I feel I have the respect and confidence from the players and the Board of Directors to succeed. There is a lot of hard work ahead, but everyone in this organization is committed to defending our championship." Derek Mann, new Elite Head Coach from 2017.
We wish Coach Alderfer all the best and are happy that he will still be a part of the organization (albeit in a more limited fashion).
A proper farewell for our Coach Alderfer will take place at the Oslo Vikings Superbowl gathering 5. February 2017