12/04/2023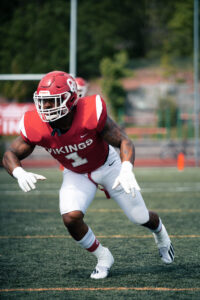 Sewell is back for 2023 season
We would like to announce the return of William Sewell Jr. to the team for the 2023 season. Will is back for his second season with the Vikings. Along with playing for the senior elite team, Will is also a member of our u17 teams coaching staff. Primarily his position is defensive end, but Will can play all over the field. In 2022 he played all three phases of the game. Defense, Offense and special teams. Will was voted to the 2022 All-star team as a defensive end and recently was voted on by his peers to be the #2 player overall in the 2022 elite series. This was created by the people at Amsportstv.
Link to Amsportstv`s highlight reel for Will: https://www.youtube.com/watch?v=JqcbFLw3Dv0&ab_channel=AMsportsTV
We are extremely happy to have Will back to help the team and club grow on and off the field for 2023.
Welcome back home Will!
GO VIKINGS!!