20/08/2019

Vikings win 4th Championship in a row!
The Oslo Vikings capped off an undefeated season with a 26-6 win in the National Championship game. It was a wet and rainy day at Frogner stadion but that did not take away any of the excitement for the championship game . The Oslo Vikings faced off against their long time rivals from Eidsvoll. It was the second time these two clubs played each other this season and like always, this one did not disappoint.

It was a hard fought close game from start to finish. Oslo Viking  wide receivers Petter Thorp and Marlon Hylton helped turn the tide with long touchdown receptions from starting quarterback Robert Mehmet.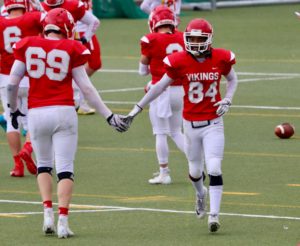 Throughout the game, the Oslo Vikings defense came up big. Creating turnovers with interceptions and fumble recoveries. It was a well rounded defensive effort to come away with the win. One Viking who showed up big was defensive end Thomas Sundby. Sundby was named the games overall MVP for his finals performance. He was constantly disrupting the 1814`s quarterback every time he dropped back to throw. His motor was running from the first snap of the game all the way till the last snap.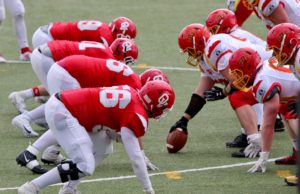 On behalf of the entire Oslo Vikings organization, we would like to congratulate the 2019 Senior Elite team on their 4th straight National Championship! We would also like to thank all of the American football fans who came out to create this wonderful finals experience at Frogner stadion.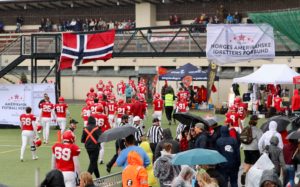 We look forward to seeing you all out to support the U 15`s and the U 19`s for the 2019 Fall season at Frogner stadion!
Until then… GO VIKINGS!!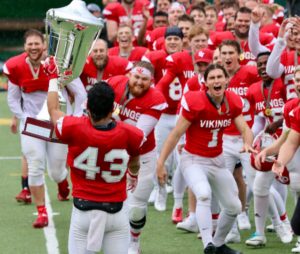 Please follow and like us: