06/12/2019

With the U 17 regular season coming to an end this past weekend. The Oslo Viking U 17 team were crowd 2019 series champions. The undefeated regular season was capped off with a 36-34 road victory in Bergen vs the Åsane Seahawks.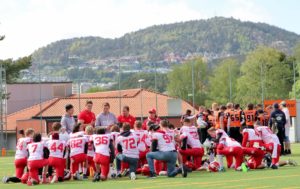 As most of the games were this season, this one was yet another close one! During the last 3 games of the season, the team has won those games by a combined 5 points total. That by itself says it all. This coaching staff and player group always found a way to dig deep in crunch time and pull out the close game victories. All the hard work this team put in over the off season and during the regular season really paid off on the field come game days.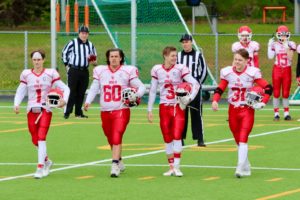 When this group came together in January with newly hired head coach Kasper Tveter, they were a dedicated bunch right from day one. They have continued to be that way throughout the entire season. Coach Tveter was not alone leading these young men. He had great help from his assistant coaches; Adam Lukasiewicz, Aleksand Andric,Frode Bratbak, Aleksand Thomas, Magnus Meyer, Elias Kjelling and team manager Tine Jacobsen. With out a great support staff like this I do not believe the team would be where they are now.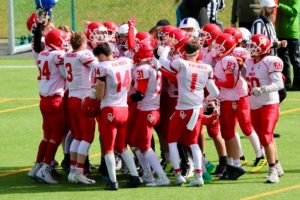 Unfortunately with two teams dropping out before the season, the regular season was cut from 6 games to 4 games. In the opening game vs the Sand Falcons, the team started off with a big home victory. Winning 42-6. In the second game of the regular season the Vikings played an away game vs the Eidsvoll 1814`s. This game was an instant classic coming down to the wire with the boys coming out on the winning end of a 42-41 score. The third match of the season was against our cross town rivals the Vålerenga Trolls. The setting was 4th and goal from the Trolls 2 yard line with under 1 minute to go. When the ball was snapped the quarterback rolled out to the right and connected with his receiver in the end zone to  cap off the 12-10 victory.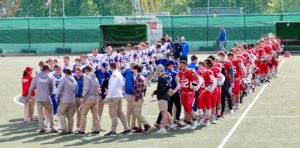 That brings us to the final game of the regular season in Bergen. After winning the last 2 games by dramatic finishes, I guess it was expected that they would take it down to the wire with a 36-34 Victory.
It is now playoff football time! It will be a rematch vs the Åsane Seahawks from Bergen. Saturday, June 15th (kl 14:00) at Frogner Stadion. We hope to see as many people as possible to help cheer on these wonderful young men.
On Behalf of the entire Oslo Vikings organization, we would like to wish our boys the best of luck for the 2019 U17 playoffs!!
Photo credit: Caroline Wendelborg
Until next time… GO VIKINGS!!
Please follow and like us: