07/11/2019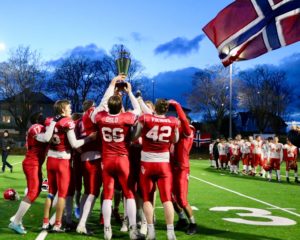 Our Oslo Viking U19 team defended their title as Norwegian Champions. Rounding out back to back undefeated seasons on route to another National Championship.
This 2019 final was between the Oslo Vikings and long time rival, Eidsvoll 1814`s. After all was said end done, the final score was 36-24. This was a true battle between two good football teams. Both teams gave everything they had out there on the field for the final match of 2019.

At half time the score was 22-3 for the Oslo Vikings. After the break, the game went on to become much closer. Late in the 4th quarter, the score was 30-24 for the Vikings with the 1814`s looking to put together what would have been a massive comeback. With the Vikings offense getting the ball back, the boys marched down the field to cap off the finals with a game closing touchdown drive.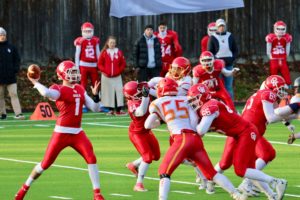 All game long, the Vikings were lead by quarterback Jesber Johnsen. Jesber was carving up the defense from start to finish, both on the ground and in the air. Jesber had 4 passing touchdowns and 1 rushing touchdown. Hauling in 3 of those touchdowns through the air was rookie wide receiver Hans Finstad.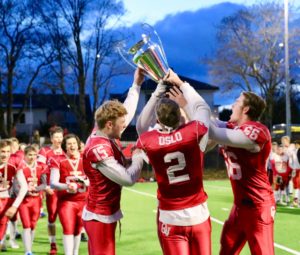 For the MVP honors, 17 year old Linus Baumbusch took home the hardware! Linus played every snap of this game. He was starting both ways on offense and defense. He also played on all special teams units. Linus finished the game with multiple catches on offense and 2 big interceptions on defense.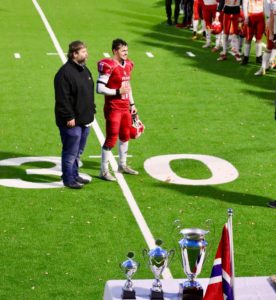 On behalf of the Oslo Vikings, we would like to congratulate all players, coaches, support staff, fans and parents for this wonderful U19 season.
Until next season…..
GO VIKINGS!!!
Photo credit: Caroline Wendelborg