27/08/2018
Vikings U 19 team starts the season with a victory in Kristiansand!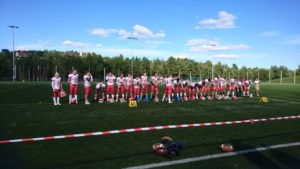 For the first time in many years, the Oslo Vikings U 19 program  did not field a team in the 2017 series. You can say good bye to those days , and say hello to this new group of players! With 5 players returning from exchange programs in the United states and the addition of new players into the program, this 2018  team has something to prove!
The Vikings started their season with a big week 1 road win over the Kristiansand Gladiators on Sunday, August 26th. From the first whistle, the boys showed they were ready for the task. The game started off with an opening drive touchdown pass from quarterback Wilhelm Domaas to receiver Filip Rognerud. On the following drive the Vikings marched down  the field and capitalized on a touchdown run from running back Jørn Valaker. 
Following those two touchdowns, the combination of Domaas to Rognerud connected two more times through the air. Receiver Peder Topaas also got in on the action with a 12 yard catch and run touchdown in the second half. To round out the scoring, running back Aleksander Thomas caught a 45 yard screen pass and took into the endzone. During the second half, Domaas executed a beautiful quarterback bootleg to bring the score to 50-12 final for the visiting Vikings.
Throughout the game, the Vikings offensive line played a wonderful game. They created huge running lanes for the running backs and they kept there quarterback safe with their pass protection.
On the defensive side, the boys played well all over the board. Only allowing 12 points by the opposing team. 6 of those 12 points came from a last second hail marry to end the first half.
The defensive line, led by ;Petter Frausing , Fredrik Moe, Geir Erik Helme and Ola Lefstad were making it hard for the Gladiators offense to establish the line of scrimmage. The linebackers and secondary were flying around playing sound football all day long.
It was safe to say the Vikings started their season off on the right foot. Quarterback Wilhelm Domaas also started the season with a statement. Throwing for 5 touchdowns and rushing for 1. Domaas was named" player of the game" as decided from by the Vikings coaches.
The Vikings are right back at it this weekend. The boys will be traveling to Åsane to play the Seahawks in Bergen. Kickoff is (kl 15:00) Saturday,September 1st.
Good luck boys and GO VIKINGS!!