04/09/2016
The Oslo Vikings U15 team started their season with a convincing 24 – 0 win over arch rival VIF Trolls.
Lead by quarterback Bror Ness, the Vikings set the tone early with three first half scores.
One came on a turnover after a fumble caused by excellent tackling by cornerback Amund Maudal. W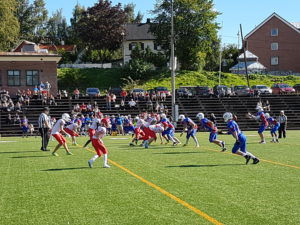 ith a strong running game and solid passing the Vikings dominated the offensive side of the ball. Running backs Kristoffer Aandahl and Robin Bakken pounded the Trolls defense, scoring and also setting up the passing game for the Vikings.
Solid games from rookie linemen Sander Kråkmo and Jonas Andreassen helped secure the fourth and last touchdown half way through the second half and seal the victory for the Vikings.
The Vikings defense also played a very solid game, holding the Trolls offence to only a few first downs the entire game.
Nose tackle Geir Erik Helme was a disruptive force in the middel of the Vikings D-line, backed up by excellent tackling in traffic and in the open field by the whole defense. Trolls were mostly unable to move the ball and where held to three downs or turnovers most of the game.
This was a great win and something to build on going ahead in the season.
The U15's next game is away against Kolbotn Hunters, at Sofiemyr, next Sunday (11/9) at 14:00.