01/10/2019
The Oslo Vikings have added coach Kasper Tveter as the clubs new U15 and U17 coach for the 2019 season!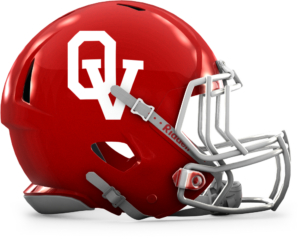 We had the chance to catch up with Kasper about his new position and role within the club. Here is what he had to say.
How long have you been involved with American football, both playing and coaching? Can you give a brief history of your career?
I played my entire career in the trolls, all the way from u-13, I played quarterback the entire time. We won a couple championships both in U16 and U19 and I had a blast playing for the junior national teams. I started my first elite series game at quarterback when I was 16 against the Vikings, we lost 54-14, but I threw my first TD and had a great experience.
I continued to play in the elite series until I was 22 then illness and injuries forced me into early retirement. Although I'm not saying that I wont ever play again 😊
Nothing changed with my passion or commitment to football, so I made a quick decision to start coaching. I coached my first season as the Offensive coordinator for the trolls U17 the following season.
I coached with the trolls for three seasons, I learned a lot from other great coaches, and I am glad I got the opportunity. After my first season I worked my way into the junior national team coaching staff as the quarterbacks coach and I'm still a part of U17 and U19 National Team.
The next season I got the opportunity to be a part of team Nordics game against team USA at at&t stadium in Texas.
 Who have been your biggest influences along the way to get to this point?
I have been really fortunate with having great coaches as player in my former club the trolls which I learned a lot from, all the way from U13 to seniors. Scott Boer was my head coach the last few years that I played. He spent countless hours with me watching film, talking schemes, doing quarterback drills and teaching me how to be a leader. He taught me so much and is by far my biggest influence. I have also learned a lot from coaches, both European and American, attending camps and clinics.
Being a part of team Norway's coaching staff the last two years have really influenced me as well, it's a great group of both players and coaches that increased my knowledge and love for the game. Alexander Durazo has taught me pretty much all I know about o-line play, and Greg Kleidon has taught me so much about interacting and communicating with young players. I am so glad to be part of a great network of coaches that I have learned, and will continue to learn from in the future.
What are your goals for both the U15 and U17 programs for the 2019 season?
I'm super excited about this year's teams. We have great rosters with kids in all ages and sizes. They all seem super dedicated and coachable. I can't wait to get to know them better!
We are expecting high attendance and good numbers at practice throughout the season for both U15 and U17. That will allow us to really focus on development and helping these kids grow as football players. Our goal is to help these young players reach their potential and increase their passion and love for the game. We do not want to set result based goals right now, but I can guarantee that we will be a tough team to beat.
What has been your impression of the Oslo Vikings since you have taken on the role of youth head coach?
I enjoyed some great years with the trolls, and I am really great full for all that club gave me, but when the Vikings reached out to me with such an amazing opportunity, I felt like it was time for me to move on to bigger challenges and more responsibility. I have gotten a great impression of the organization, and the facilities are awesome! We have put together an incredible coaching staff with young and highly motivated coaches which makes my job so much easier. I can't wait to get started.
How would you describe your style and way of coaching?
Development over results is my biggest thing, but that doesn't mean that we wont play at a high level. As a coach I am very structured in everything I do, we will have scripts and timetables to make sure we do everything as efficient as possible. I like to believe that I'm viewed as a good leader, and that even though I'm strict I'm good at heart. I am confident in my own offensive mind, and my ability to share that knowledge with the players, therefore my personal goal this year is to not be out coached by any opponent.
I do my best to be there for the players both on and off the field, I hope that the players see that and know that I care about them as people and not just pieces on a chess board.
We also had the chance to ask the clubs Athletic Director, Derek Mann about the latest hiring.
"2019 should be an exciting year for both our U 15 and U 17 programs. Kasper is a highly motivated coach who will get the most out of our youth players. Kasper not only has the drive and passion to improve youth football within the Oslo Vikings but also with Norwegian football in general. He has previous youth coaching experience both on the Norwegian level and  national level. All of that experience will be greatly beneficial towards our players. I can not wait to see our programs continue to grow with him in charge of them in 2019."
On behalf of the entire Oslo Vikings, we are very happy you decided to join the Vikings family Kasper! We look forward to seeing what 2019 brings!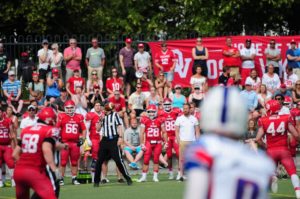 GO VIKINGS!!
Please follow and like us: