14/08/2018
The Oslo Vikings would like to say a huge Thank You to our 2018 Import: Dominic DeSouza !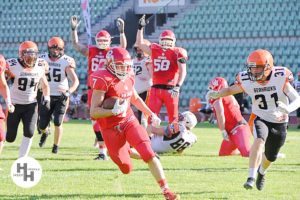 This picture sums up how the season for  Left Tackle Dominic DeSouza and the rest of the Oslo Viking offensive line went. It did not all come too easy though. With a long season and multiple injuries along the way for the O line, Dominic and Jonas Hagerup were the only 2 Offensive linemen that started and played every game. Every week it seemed like there was a different lineup of offensive linemen in the starting lineup. Not only different, but guys had to play multiple positions.  There was even help from the defensive line who crossed over to the offense to help the team out.
If we rewind a bit. I want to tell you a brief history of where Dominic played before coming to the Oslo Vikings in 2018.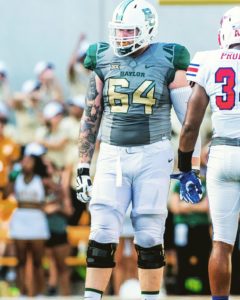 Dominic is a 22 year old American Offensive linemen from California in the United States.Standing at 6 feet 9 inches and 285 pounds. He is a former starting Left Tackle at Baylor University in the state of Texas. Dominic is also an assistant Offensive linemen coach at City College in San Francisco California. Dom has played at the highest collegiate level in American ( NCAA div 1).
With his football resume and combination of size and speed, it was safe to say he was going to handle the opposing defensive linemen pretty well. Dominic started all 11 games for us at Left Tackle. He barely gave the opposing D line a sniff of our quarterback and created some big holes along with the entire offensive line in the run game.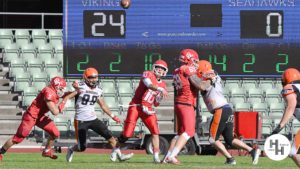 Through the season there are always going to be ups and downs. One thing we could always bank on, was our offensive line play.Dominic along with 4 other offensive linemen were voted  league All stars!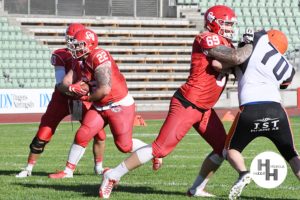 On behalf of the entire Oslo Vikings club; players, coaches , board of directors and fans. We would like to say  a HUGE thank you to Dominic for coming to Oslo to play for the Vikings. Once a Viking always a Viking big man! We would like to wish you the best  luck in your coming season coaching in the states and hope you will wear the OV on your helmet again someday.You are a great teammate and an even better person.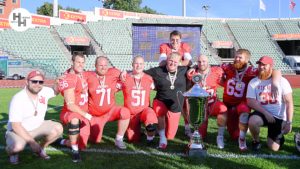 Finally, a picture after the championship win  of the most of the members of the 2018 offensive line.
From left to right: Coach Petter Vogt, Ian Barkovitch, Stian Klyve, Trygve Langballe, Jonas Hagerup, Magnus Kinne, Dominic DeSouza, Elias Kjelling.
Back Row: QB Mehmet Sezer
Missing : Aleksander Andric, Erik Kortgaard
Photo credit for Oslo Vikings game photos: Hilarious Hobbit
Baylor photo : Unknown
Thanks Dom and GO VIKINGS!!!