10/16/2016
Oslo Vikings U15 come through in overtime to beat Kristiansand Gladiators 6 -0 
In the seasons first home game, under the lights at Frogner stadion and in front of nice crowd, the Oslo Vikings U15 just squeeze by Kristiansand in over
time to go 4-0 for the season.
Oslo Vikings came in to this first home game with a 3-0 record, after having beaten Lillestrøm Starfighters 30 – 7 in the previous game.
Both teams started with solid drives, combining both hard running and accurate passing, but both drives stalled some yards into the opponents half resulting
in punts.
Dry but cold conditions made the ball slightly loose in the players hands, and both teams fumbled the ball several times in the first half.
The game waved back and forth throughout both half's. Hard  outside running by Vikings running backs #8 Robin Bakken and  #52 Olav Lisæth creates several good opportunities,
but solid defensive play by the Gladiators stopped the drives short every time.
Vikings had one last chance toward the end of the game with about one minute left on the clock and had several nice quick out passes to gain yards and stop the clock,
but a last second fumble ended regular time and had the game go into overtime.
Viki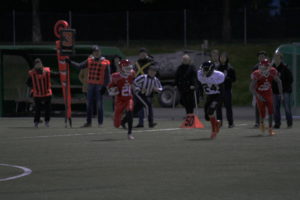 ngs won the overtime coin toss and elected to start off on offence.
Vikings were unsuccessful on the first three downs, but an excellent executed wide receiver reverse by #52 Olav Lisæth and #5 Amund Mauldal brought the ball all the way down to the 2-yard line and giving the Vikings a first down. After a two unsuccessful down, quarterback #3 Bror Ness made a leaping dive into the end zone for the first score of the game.
Unable to kick for 2 points (reverse scoring on trys in the youth leagues to encourage kicking) due to injury, the Vikings tried to run the ball into the end zone for 1 point, but great defensive play by the Gladiators prevended points on the try, and the score was
6-0.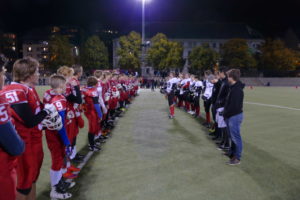 The Gladiators then needed to score a touchdown and get one or two points on the try to win the game, and it looked as they might succeed as they were able to  drive al the way down to the Vikings 5-yard line.
On second down the Vikings defense made the game winning stop, not only stopping the play, but also stripping and recovering the ball, stopping the Gladiators overtime series and ending the game.
It was an exciting game, with momentum shifting back and forth, with great effort by both teams, but with the Viking U15 team coming out victorious in the end.
The Vikings U15 are still undefeated at 4-0, heading into the last two league games the coming two weeks.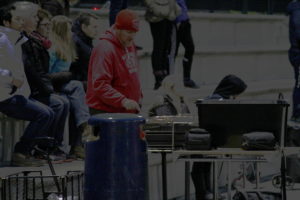 Next game is away at Eidsvoll 1814's on Sunday October 23rd at 14:00.
Please follow and like us: