28/11/2016
We had the chance to catch up with one of our former Oslo Vikings players KJ Brandal. He is currently playing collegiate football at Towson University as an offensive lineman. Towson University is located in the United States. The campus is close to the football hungry city of Baltimore, Maryland. KJ attended the the highly acclaimed high school football program IMG Academy in Florida prior to enrolling at Towson university.

What influenced you to start playing football?
"What influenced me to start playing football was spending summers in the United States. When i was 14 years old i would go to summer camps in the US. It was here that my interest for football grew. After returning home and starting to watch it, i got more intrigued and started doing research on teams in Norway and the Football environment as a whole."
What age were you when you started playing for the Oslo Vikings?
"After playing 1 U-19 and Senior season with the Tønsberg Raiders i was approaching high school graduation and going to college. I knew that playing in college was something i wanted to do very badly and joined the Vikings at age 18 in order to get an experience of playing with the best in Norway before graduating high school."
What is your best memory while playing for the Oslo Vikings?
"I have a lot of great memories with the Vikings. One of them was our 49-7 blow out win over the Bergen Storm in 2013. (might be wrong on the points in this game, but we were close to scoring 50). Another memory i hold dearly was earning my first start for the Vikings at right guard. This happened away against Eidsvoll, and even though we lost, being able to step up and earn the respect of my teammates, coaches and veterans meant a whole lot to me."
How has your experience been playing and attending Townson university?
"Attending Towson university has been a great experience so far. First of all, being a division 1 student athlete is extremely hard. Balancing a full course load as well as a time consuming sport requires dedication and true love of the game. Resisting temptations to go out and participate in the standard college party scene is also something every athlete has to be fully committed to avoid. Normal in season days contains 5 AM lifting sessions, followed by a couple hours of classes and then 2-3 hour practice sessions. At night we have tutoring sessions aimed at helping us in our more challenging math and science classes. Throughout the day we also must find time to do other schoolwork as well as study our opponent and take care of our bodies in the training room. In short it is like having 2 full time jobs. However we are rewarded every Saturday when we get the opportunity to compete. There is no better feeling than taking that field with you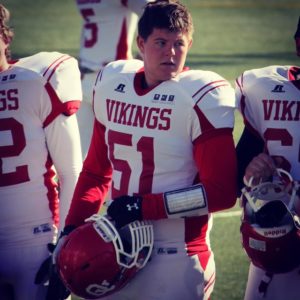 r brothers."
Did playing for the Oslo Vikings have a positive influence in your life, on and off the field?

"Playing for the Oslo Vikings definitely had a positive impact on my life. I have made friends in the OV family that i will have for the rest of my life. There is nothing like the bond formed between a group of individuals who are extremely passionate about the same things and have similar goals. It was amazing to be able to watch the Vikings reclaim the national title this year shows how years of hard work finally paid off."
What words of advice do you have for young kids out there who are aspiring to chase a dream of playing football  in USA or Canada?
"My #1 piece of advice to younger players is work hard. The only way of getting to this level is showing coaches your passion and work ethic. Showing up to work everyday with the right mindset will get you noticed and you will be rewarded for it. As long as you are relentless in what you do, no one can deny you your dream. College coaches love seeing athletes that are stronger, bigger and faster, but if you show them that you have an attitude like no other on that team, and how hard you are willing to work to achieve your dreams, you will reach your goals."
The Oslo Vikings wish you the best of luck on and off the field. We hope to see you at Frogner soon!