10/03/2020
Newest Viking headed abroad for 2020, Simen Wendelborg !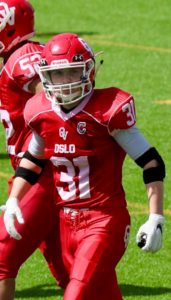 U 17 standout player Simen Wendelborg will be taking his talents to the United States for the 2020 school year. Simen will be attending New Mexico Military Institute in Roswell, New Mexico.
Since Simen`s first practice with the Vikings (2.9.2014) Simen has been all in on the game of American football. He played three seasons for our U 15 program to start his Vikings career. He is now in his second and final season in the U 17 program.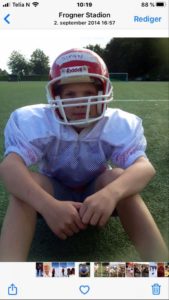 Simen has always shown a great interest for the sport and his own overall goals. Last season as a 16 year old, Simen was a starter on the Oslo Vikings U 19 Championship winning team. Last year, Simen was a member of the U 17 Norwegian national team as a starting linebacker. That team took home a medal competing in the the Nordic championships. He was one of the youngest players to take home that honor.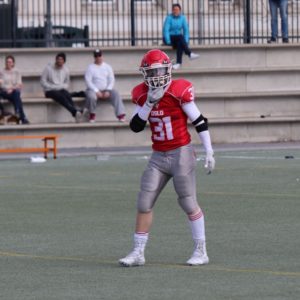 Words from Head coach and club Athletic Director, Derek Mann:
"Simen has been a staple in every youth program we have had over the past 5 years. He has continued to grow as a person and a football player every season since he started. Like most kids who start a new sport, Simen started off shy and quiet. As the years went by, I could see him growing into the person he is today. I had the opportunity to coach him for his first three seasons in U 15. I will never forget his final game as a U 15 player. He was absolutely all over the field. Countless tackles, 3 turnovers on defense, 1 defensive touchdown.
After that game I remember talking to our U 17 coach for the following year about this U 15 player moving up. I was so impressed by how Simen had played the entire season but that game was a real coming out party for him. Ever since then, Simen has taken his passion and drive for American football to a new level.
I could not be more happy and excited for Simen and his future with both academics and American football."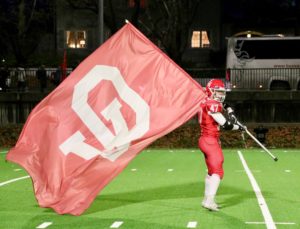 On behalf of the entire Oslo Vikings organization, we would like to wish Simen the best of luck in his future plans! We are also looking forward to seeing Simen play this season on our 2020 U 17 team.
GO VIKINGS!!