08/16/2017
The 2017 Oslo Vikings were well represented in this years batch of Norwegian Allstars. This year the Vikings had 12 players who were voted to the Allstar team for Norways elite. All 12 players had excellent seasons on the field in their respected positions.
On the Offensive side of the ball, the Vikings were represented by:
Wide receiver  – #5  Erik Ford
Center- #51  Trygve Langballe
Right Tackle -#60  Alexander Menzel
Full back – #22 Jesper Jørgensen
Running back- #3 Lorenzo Proctor
Quarterback- #10 Mehmet Sezer
On the Defensive side of the ball, the Vikings we represented by:
Defensive tackle – #75 Aleksander Andric
Defensive end – #52 Magnus Kinne 
Linebacker- #6 Kim Schaanning
Safety – #1 Bror Jahre
Corner- #21 Eivind Rølles
On Special teams the Vikings were represented by:
Kicker- #7 Vegard Tysse
All of these players were voted in by the Head coaches from around the country and the crew at Amerikansk Football Norway.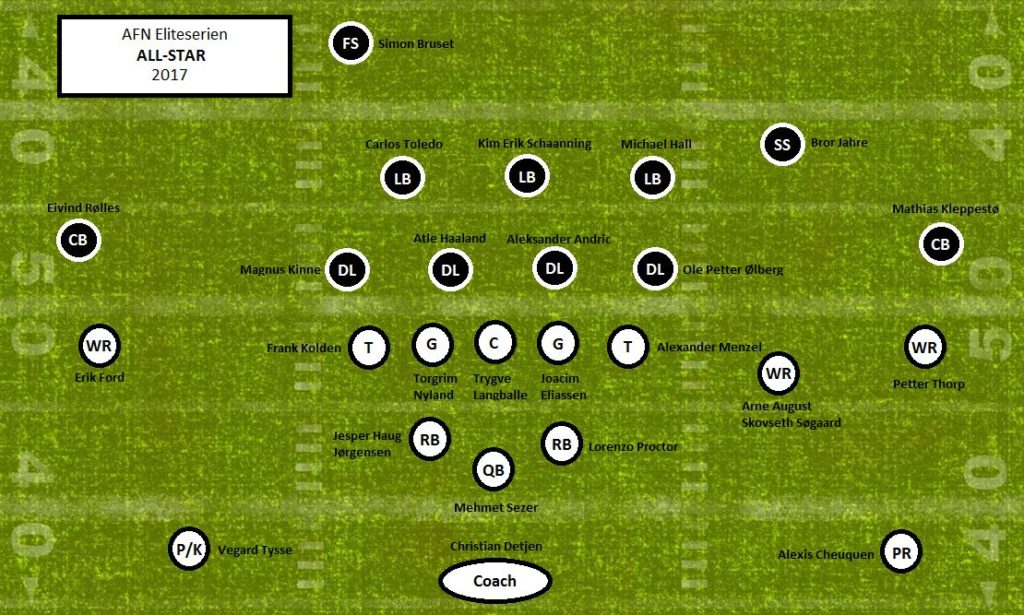 Here is the complete article from Amerikansk Football Norway acknowledging all of the 24 Allstars from around the country.http://amerikanskfotball.tnfj.com/rankings/eliteserien-all-stars-2017/
The Oslo Vikings would like to congratulate all of the Vikings and the rest of the players from around the league for being named 2017 Allstars!!
GO VIKINGS!
Please follow and like us: