10/17/2017
This years  U 17 National team will be competing in the 2017 Nordic Championship in Vejle Denmark. On Thursday October 19th (kl. 17.00) the Norwegian U17 National team will play team Denmark to kickoff the tournament. The winner of that match will play Sunday October 21st (kl. 14.00) in the gold medal game vs the winner of Finland and Sweden.  The loser will play in the Bronze medal game that same day prior to the gold medal match (kl. 10.00). You can use this link to watch the matches live: WATCH LIVE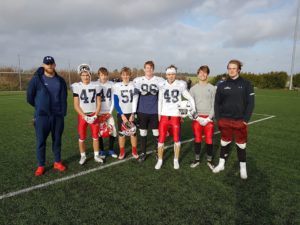 This years team is comprised of seven Oslo Vikings players and one coach. Coach Nicolay Knutsen will have the honor of being the teams Defensive coordinator. Nicolay has been a player and coach for over 10 years with the Vikings organization. We are very excited and happy for him that  he was asked to represent Norway and the Vikings in Denmark. Coach Knutsen has been a massive part of the Oslo Vikings youth program over the last 5 years. In the past he conducted the role as U 19 head coach and defensive coordinator. This past year he was the Oslo Vikings U17 head coach. Under his leadership, the Oslo Viking U17 team made it to the Norwegian national championship game. The boys ended up falling short of the ultimate goal on winning the championship. With a young team and a bright future, the U17 program is poised to make another run at the title for the 2018 season.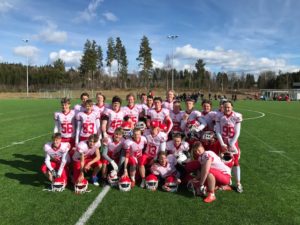 As for the players, the Vikings are mostly represented on the defensive side of the ball. With the lone offensive player being Ola Lefstad. Ola will be playing offensive line, specifically playing the tackle position.
On defense, the Vikings will have four players in the defensive secondary.
Lars-Petter Hillesund
Christian Begby
Gaute Gunleiksrud
Mikkel Syverstuen
Patrolling the field at Linebacker is Kristoffer Aandahl. At defensive line, the Vikings are represent by Fredrik Moe.
On behalf of the entire Oslo Vikings organization, we would like to wish all players and coaches representing their country the best of luck!
GO VIKINGS!
Please follow and like us: