11/19/2015
Say hello to Dustin Hawke Willingham. Here is what he has to to say with joining the Vikings family.
I'm very excited for the opportunity to play for the Oslo Vikings in 2016. I've had the privilege of playing football in Europe the past 6 seasons and Norway for the past 4 up in Trondheim. I'll never forget my experiences in Trondheim. I'm thankful for everything the Rein family has done for me and I'm and I'm very grateful to have had the opportunity to play at the side of some great men with the Domers.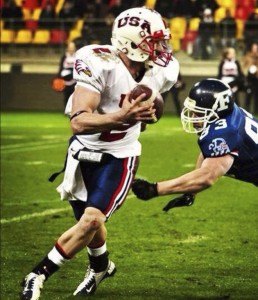 I'm now looking forward to creating new experiences and competing for a Championship in Oslo with the Vikings. I'm familiar with the Vikings and have always admired the program from afar, I'm truly honored to be a part of this programs 30th anniversary and can't wait to meet everyone within the program and get to work.