12/09/2016
One more week and one more victory for the Oslo Vikings U15 team.

The second away match for the U15 team was played at Kolbotn Hunters home field at Sofiemyr, a 30 minute drive outside of Oslo.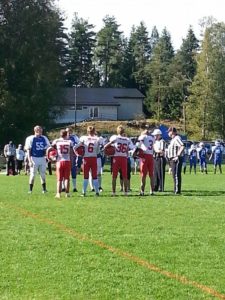 Once again strong play on both offence and defence secured victory for the team.
Kolbotn started with the ball on their own 20, but was driven backward by a attacking defence. On third down the pressure was to great for Kolbont,
and a scrambelign Hunter was tackled by  #1 Kristoffer Aadahl in the endzone for a safety and two points for the Vikings.
Hunters did not manage to respond on their first possession, but  managed to drive the ball close to midfield before being stopped by a solid Vikings defence.
The offence got back on the field and combined tough running with nicely distributed passes, to drive the length of the field, before punching
the ball inn with a hard run by #8 Robin Bakken for the second score. The extra point kick was good an Vikings were up 10-0. (U15 has reverse scoring on PAT, 2 points for kick, 1 point for run/pass, to encourage kicking).
Kolbotn responded on their next possession with a long, 50 yard breakaway run outside and up the left sideline by their star player #44. The extra point was stopped by the Vikings defence and the score was 10-6.
Once again the Vikings drove the length of the field to score, but did not make the kick, and the half ended with a Vikings 16-6 lead.
The second half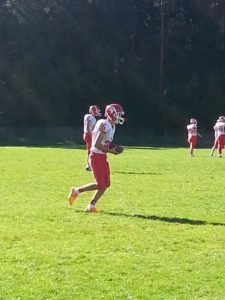 started a bit slow, with both teams unable to convert drives into points. The Oslo Vikings team were clearly in control of the game and Kolbotn were mostly held in check and forced to punt or try risky 4th downs. The relentless play of the Vikings defence finally payed out, as they stopped the Hunters in good field position.
Vikiings offence did not waste the opportunity and scored one more touchdown on another hard run by #8 Robbin Bakken. The extra point kick bounced of the goalpost and through the uprights, making the score 24-6.
A final Vikings score came on yet one more safety, this time by DE #54 Olav Lisæth, making it 26-6.
As the clock was winding down, Kolbotn Hunters player #44 broke another long run, this time up the right side,  finding his way to the endzone and setting the final score to 26 – 12 in favor of Oslo Vikings.
Another great win for the Vikings, who now head into a couple of weeks without games.
The team will not however lay on the lazy side, as the first weekend will be spent on one of the largest income generating jobs for the club,
managing the drinking stations for Oslo Maraton.
Next game is on 2nd of October, away against Lillestrøm Starfighters.