05/11/2016
On the 1st of May our Oslo Viking second team played there second game of the regular season. For the first time in club history, the Vikings traveled to Tromso in northern Norway to take on the Trailblazers.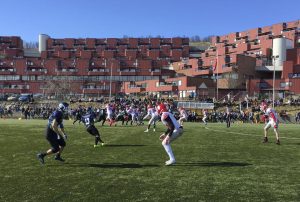 The game started off well for the Vikings. Driving the ball down the field with some old fashion smash mouth football and leading to a Jesper Haug Jørgensen touchdown run.
As the game got going the Vikings led by quarterback Henrik Kværner Helliesen got there passing attacking rolling. Helliesen connected on two long touchdown passes. One with Simen Fallang on an amazing 70 yard catch and run. and one with Nowell Otim on a 50 yard catch and run. That then made it 14-0 then 21-0 for the Vikings.
Throughout the game the Vikings defence played shut down football. They held the Tromsø offence to minimal yards all game. One major stand out on the defence was Rune Nilsen. He was all over the field giving fits to the Trailblazers players. He had 5 pass break ups and added 2 interceptions. The vikings D line were also putting the Trailblazer quarterback under pressure all day long. With each defensive linemen recording a sack during the game.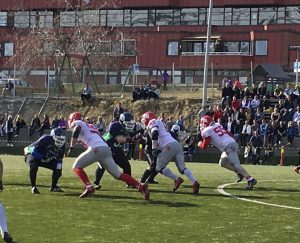 In the end the Trailblazers managed to get on the scoreboard with a second half touchdown. The game ended in a 21-7 win for the Oslo Vikings.The Vikings are now 1-1 in the regular season.
Our next match is against the Trolls on Friday ,May 13th at 1900 in Jordal stadium .
Come out and support and cheer on your Vikings!!!