10/25/2016
Vikings U15 with first loss of the season
For the second week in a row the Vikings U15 were tied at full time, and needed overtime to get a final result.
Unfortunately the final result was 12-6 to Eidsvoll, leaving the Vikings U15 at 4-1.
It was cold and wet conditions at the grass field at Bøn stadium, and the U15's got off to a bad start when 1814's scored on a powerful run on their first drive.
In starting quarterback/safety Bror Ness's absence (he had a prior engagement with the NFL in London), backup quarterback #5 Amund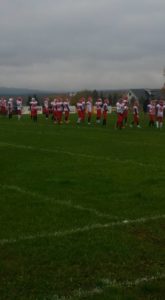 Maudal stepped in and lead the offensive unit.
With though defense from both teams, the game became a defensive battle with both teams stopping the other team again and again.
Vikings and 814's were treading plays and drives, but not able to convert good effort into points on either offence or defense.
QB #Amund Maudal was passing well and distributing the ball across the field. Tight End #11 Lars-Petter (LP) Hillesund, wide receivers #21 Peder Topaas and #84 Torstein Kleven all had great catches and good runs at key moments in the game, but none were able to break completely free and reach the end zone.
On defense middle linebacker #8 Robin Bakken had another great game. Also defensive end #58 Martin Varhaugsvik had a standout game with several key tackles and a huge sack for a big loss.
It was not until late in the game, in the 4th quarter that Vikings managed to finally punch through the 1814's defense.
In at running back, #8 Robin Bakken made a powerful run and managed to secure the tie at 6-6.
Unfortunately the U15's were not able to convert the extra point to take the lead and possibly the win.
Instead regular time ended with the score at 6-6 and again the Vikings were headed to overtime.
Overtime started in the word possible way with the U15 fumbling the ball on the very first play. That gave the 1814's a great opportunity to seal the game, an opportunity  they did not let go as the scored on their very first play, and set the final score to 12-6 to Eidsvoll 1814's.
Now the U15 head into the final and decisive game of the season against Åsane Seahawks on next saturday.
With a win in that game the Vikings will tie Vålerenga Trolls at 5-1, but take the league victory on internal points difference, since they beat the Trolls in the first game of the season.
The game against the Seahawks will, ironically, be played at Jordal, the home field of the Trolls, since Frogner stadion is now closed for the season.
The game starts at 12:30 and all supporters are needed to cheer our boys on to victory in both the game and the league.