31/12/2016
With our "Where are they now articles" we want to  reach out to our  past and current players and coaches. Giving the individuals the  opportunity  to tell their story. This time we tracked down a long time Oslo Viking, Alexander Moe. Here is what he had to say…
As a player and as a coach, how long have you been involved with the Oslo Vikings for?
"I have been involved with the Oslo Vikings since 2003, and have since 2006  been engaged in various coaching assignments across all levels within the organization. My time with the organization has been off and on as of late, but I have been involved across most levels of play, in various roles."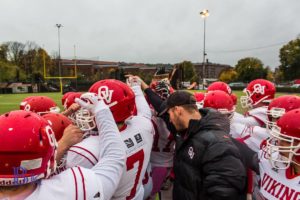 After playing for the Oslo Vikings you went on to attend Cal Lutheran University in Thousand Oaks California. How was your experience on the field and in the classroom?
"After playing for the Oslo Vikings elite team for three seasons (after finishing U19 play), through being inspired from teammates and trusting the accumulated momentum from my current, yet fairly brief time as a player, I decided to embark on a collegiate playing-journey.
I had a vision of completing higher education and to compete and learn the sport at the highest, yet most feasible level possible. In California Lutheran University, I found the relationship between athletics and academics to be very well suited for an international student like myself."
"I attended California Lutheran University in 2007 – 2011, where I double majored in communication studies with an emphasis in media production, and political science."

"On the field I played both on the offensive, defensive lines as well as on special teams. I started or played in almost every game during my four years there.
In the beginning, I found the game to be played very fast. In football, fast play equals physical play, and that was definitely something I [needed to] pick up in order to be able to contribute on any field, be it practice or game day."

"In the classroom I enjoyed the student to professor/teacher ratio, which is particularly low at smaller universities such as Cal. Lutheran, and something that becomes a great advantage to students comprehension of material and overall learning experience. From the classroom experience, I made great relationships with some of the professors, whom have played instrumental roles in my life both during and after my time there."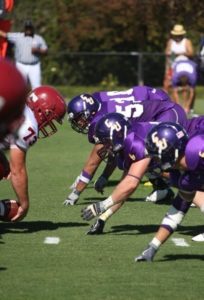 "After the 2009 season I was named Southern California Intercollegiate Athletic Conference (SCIAC) all-academic team (link: http://www.thesciac.org/sports/fball/2009-10/news/FB_AllAcademic_0910.pdf), which I was not aware existed prior to earning it; yet it kind of summed up my vision of combining football play and academics in the United States."

After returning home from attending university, Alex was able to come back and play for the Oslo Vikings senior program. He then went on to help the club win a national championship in 2012. 
"Returning to Oslo with my college football experience, I knew I wanted to contribute and give back to the organization, and I became involved as an assistant with the Oslo Vikings U19 team in the fall of 2011, along with co head coaches Robert Mehmet Sezer and Nicolay Falch Knudsen.
I was able to also build on previous experiences from having served as an assistant coach with the same age group back in 2005 and 2006, and as an assistant coach with the Norwegian national team in 2007. When 2012 came around it was time to defend the national championship victory from the year before.
Under the leadership of Head Coach Marques Anderson and Offensive coordinator Vincent Pryme; along with, what in all actuality, was the best team I have ever been involved with as far as chemistry goes, I was given the opportunity to contribute on the field as well."

"Playing along side of combination of historical key figures within the organization in Nicholay Aslaksen, Christian Paulsboe, and Pær Kærn; the very people who encouraged me to pursue college football in the first place, along with players such as the 'Air Canada' combo in Brandon Weekes and Derek Mann, as well as players such as Jeppe Okholm, Alexander Andric, and Andreas Lid, to name a few, was an experience that remains hard to defeat!"
"After the 2012 season I had the opportunity to pursue a Masters degree in Communication, Technology, and Society in the Clemson University MACTS program on a full scholarship. In this role I taught students seeking to complete their bachelor degrees in a fundamental communication course while taking my own courses toward the degree. All while planning and writing my master's thesis, which focused on the intersection of humanity and health in the context of sports as portrayed by the media surrounding a triggering event, specifically as it relates to the sport of football and the surfacing discussions regarding concussions."
"After my time at Clemson University, I returned to Oslo and was honored to be named head coach of the U19 program, which was a dream of mine since playing U19 in my younger days. With two great minds on my side in Derek Mann as offensive coordinator, and Nicolay Knudsen as defensive coordinator, we fielded a young but strong team who finished as national champion runner up. And it was an unforgettable experience, despite losing in the championship game."
"In the spring of 2015 I joined the already established coaching staff under head coach Jesse Alderfer, where I coached the offensive line. I thoroughly enjoyed both of these coaching experiences. As a player I played my best for coaches that I trusted and wanted to run through a wall for. And to see the players I now was coaching both in the U19's as well as the elite levels, play in a similar manner, is to me the greatest compliment a coach can receive. Win or lose."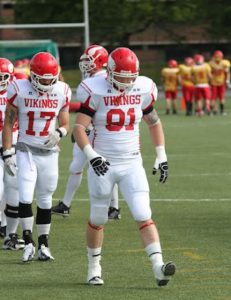 How has American Football instilled characteristics in your life on and off the field ?
"American Football has played a profound role in my life. Football has also enabled me with great friends and memories that have remained close to me since day one."
Tell us about one of your best memories while playing or coaching for the Oslo Vikings ?
"As far as memories go, the 2012 season as a whole stands out for obvious reasons. Not just because of how it ended, but because of how we came together as a team from the first days in training camp, and throughout the season.
Another memory that stands out was being a part of the Vikings victory over the Berlin Adler in the 2007 EFAF Cup, playing at their stadium in Berlin, Germany.
Aside from that, a memory that triumph victories or big is playing U19 for the Oslo Vikings. U19 in Norway is played in the fall, and the vibe around U19 is simply magical for those that play. During my time as a young player I had great friends, and several great coaches who served as great role models in how to approach the sport."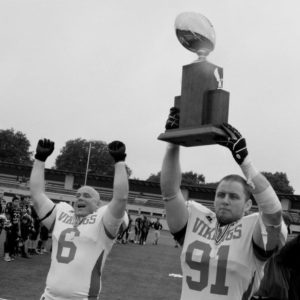 You are now currently working on your Doctoral degree at Texas Tech? 
"Currently I am employed as a research and teaching assistant at Texas Tech University, which is located in Lubbock, Texas. I work under the guidance of world-class professors, while I currently teach mass communication research methodology to students who are pursuing their bachelors in Media and Communication related disciplines."
(Link: https://www.depts.ttu.edu/comc/faculty/faculty/amoe.php)
How did playing football for the Oslo Vikings help you achieve your goals on the field and in life?
"I think sports have unlimited amounts lessons embedded inside of them. And the more you put in, the more you get out. To some degree it does not really matter what kind of sport, because lessons of teamwork, work ethic, and taking ownership can be found anywhere.
However, football remains to me the most comprehensive team sport out there because everyone has to come together to even travel a yard!
Within this sport, the Oslo Vikings remains an organization that offers great support for its players. 'OV' keeps an open door policy from which players such as myself perhaps feel like giving back as much as possible, while attempting to emulate lessons learned from the sport to other aspects of life."
Thank you very much Alex! Once a Viking, always a Viking.
Here is Alex´s highlight tape from CLU !