31/05/2021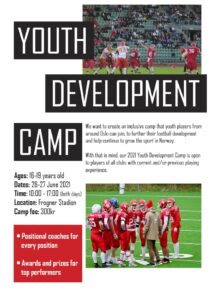 We are very happy to introduce our registration for our 2021 Youth Development camp. More information on the camp can be found in the registration link below.
https://club.spond.com/landing/courses/ov/DD72A3A79EC54B6588E8C554B7374917
Camp will be held on June 26th & 27th at Frogner Stadion. Camp is open for all players with current or previous playing experience. Players from all clubs are welcome!
This camp is for kids aged 16-19 years old.
Camp Fee is 300kr.
For questions or inquires about camp, please contact our camp Director.
Derek Mann
Headcoach@oslovikings.com
41301076