05/03/2019
PREVIEW: OSLO VIKINGS vs. SARPSBORG OLAVS MENN
Det er duket for første eliteseriekamp i norsk liga for Vikingene, og kampen foregår på bortebane. Det er Sarpsborg Olavs Menn som stiller som vertskap for Vikings, med avspark klokken 14.00 på Skjeberg. Du finner banen på kartet her.
Olavs Menn har allerede spilt sin første kamp for sesongen, som gikk mot Kristiansand Gladiators. Kampen gikk i favør av Gladiators, som tok hjem et stort W (for WIN red.anm.) med scoren 37-6.
Det er svært positivt for sporten i Norge at dette er første gang Olavs Menn fra Sarpsborg arrangerer hjemmekamp i Eliteserien, og vi vil gjerne gratulere dem med dette opprykket!
ETTER KAMPEN (skrevet 9. mai): Vi tok seieren hjem i vår første kamp denne sesongen med et sluttresultat på 0-46 takket være solid innsats både på offense og defense.
Coach Mann har følgende kommentarer om kampen:
Myself and the rest of the coaches are very happy with how we played in all three aspects of the game. Our offence did its job with putting up points, Our Defense had a tremendous game holding them to a shutout. As a coach you cant ask for more then that. We created turnovers on Defense and we took care of the ball on offence. That lead to us finished our drives in the end zone.

We came prepared with a game plan and we executed it very well in a team effort. With the conditions being a bit windy our Offensive line and running game really stepped up. We rushed for 7 touchdowns with three different running backs. This was probably the most balanced attack we have had in my time here with playcalling. It was a 50/50 run to pass ratio.

I am very proud of how our team showed up for week 1 of the regular season. Now its time to shift our focus towards the Gladiators.
Fra Defensive Coordinator Jesse Alderfer går skryten til et defense som holdt seg til planen og spilte et fokusert forsvarsspill:
The defense played a solid game. We kept to the game plan. We aligned correctly to their formations and executed.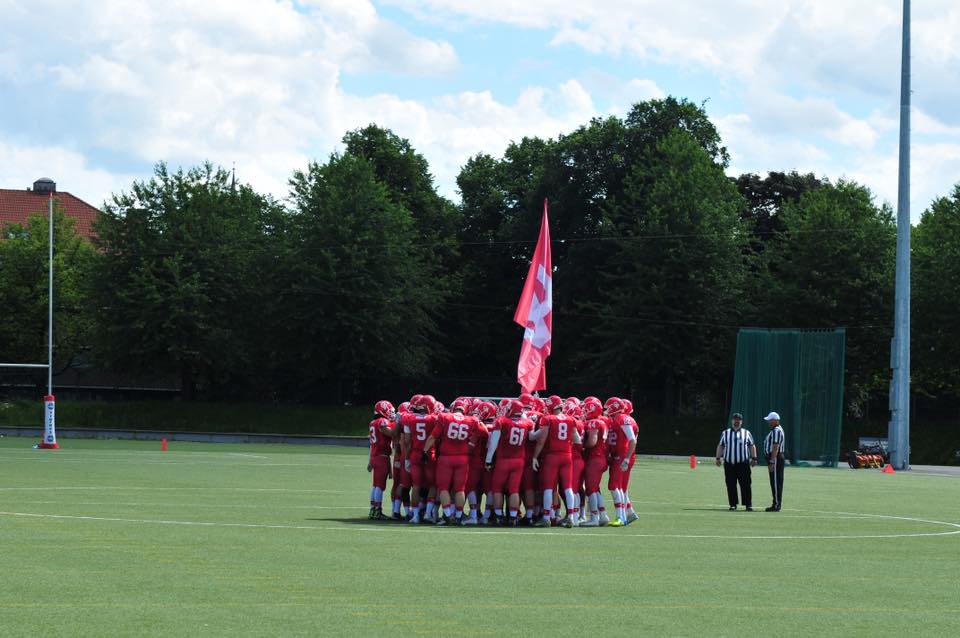 En kjapp prat med Defensive Coordinator Jesse Alderfer gir følgende forhåpninger om kampen (fritt oversatt fra engelsk):
Vi er spente på å komme oss tilbake på banen for å møte et solid og ikke minst norsk lag. De har masse talent og spiller svært fysisk, i tillegg til mye lurespill i forskjellige retninger. Vi blir nødt til å spille svært disiplinert fotball i 4 fulle quarters.
Alderfer referer her til de to treningskampene Vikings har hatt tidligere i år, mot Aalborg 89ers og Søllerød Golddiggers, begge lagene fra Danmark.
Head Coach Derek Mann deler noen tanker om fremgangen Olavs Menn har hatt i norsk seriespill:
Olavs Menn are a team that have been playing together for many years now. They are a hard working bunch that will always play their tails off for each other. This will be our first regular season game of 2019 and we have been looking forward to this match up for a long time.

It has been good for the sport in Norway to see a team who started in the 2nd division work their way up to the Elite series.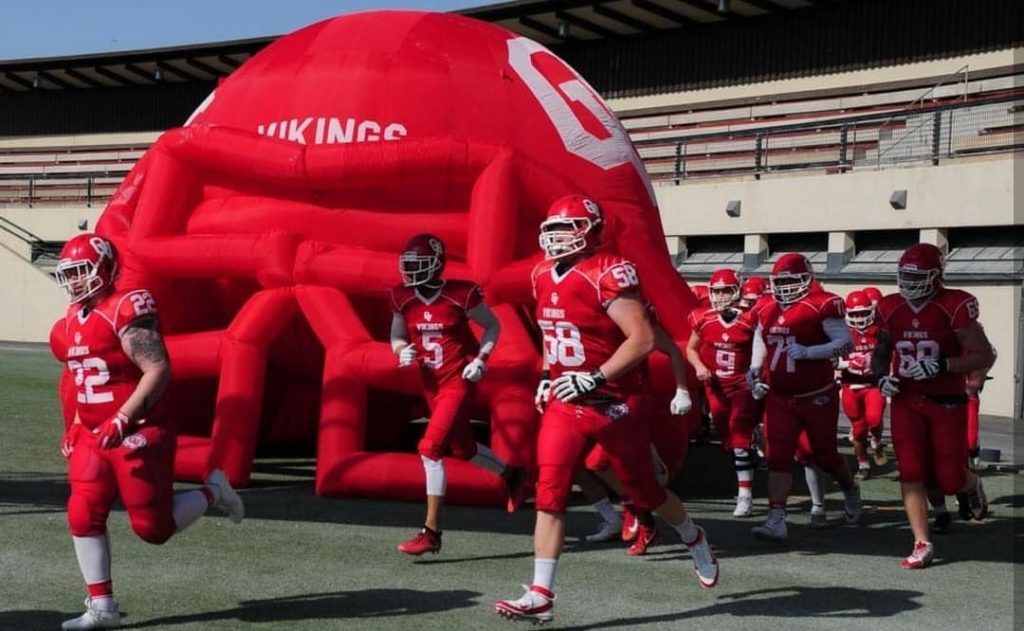 Hos Vikings kan vi regne med å se følgende spillere m.fl.:
Offense
LT Petter Langdalen
LG Stian Klyve
C Trygve Langballe
RG Magnus Kinne
RT Vidar Gjermstad
QB Mehmet Sezer
RB: Vegard Tysse
RB: Jesper Jørgensen
WR Petter Thorp
WR Marlon Hylton
WR Franz Åsheim
Defense
DE Petter Langdalen
DE Vidar Gjermstad
DT/NT Magnus Kinne
DT/NT Craig Stevens
LB Kim Schaanning
LB Jørn Valaker
DB Andreas Skeie
DB Per Gaarden
DB Johannes Høydal
DB Sergio Vizzuett
DB Wilhelm Domaas
Skadet/spiller ikke:
André Wang

Vi i Oslo Vikings er gira på å ta hjem den første seieren for sesongen i elitespill, men er rimelig sikre på at Olavs Menn er like sultne på å gjøre opp for sin forrige kamp.
Det er med andre ord trygt å gå ut i fra at dette blir en utrolig spennende kamp på øverste nivå for Amerikansk Fotball i Norge!
GO VIKINGS!!!
Fun fact: Olavs Menn er også en gjeng gærne vikinger som har hentet navnet sitt fra vikingsagaer om Olav den hellige.
For praktisk informasjon, sjekk eventet på Facebook.
Please follow and like us: